As we approach our 70th anniversary in 2019, our family business continues to evolve and our history tells an interesting story …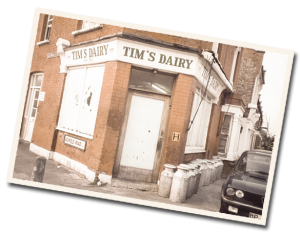 Tims Dairy was founded in London in 1949 by our uncle, Euripides Nicolaou. He was subsequently joined by our father, Michael Timotheou. Together their experience and skill brought the fresh and vibrant tastes of authentic Cypriot produce to a post war London still experiencing rationing. Their artisan yogurt, still a relatively new concept in Britain at the time, helped transform the food scene to make yogurt become an important part of the modern diet.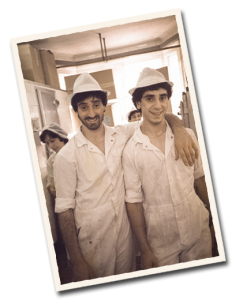 Production in those days was very hands-on with all the family playing their part and helping out to ensure the best in quality. The very early days started in Warren Street, with deliveries around Central London on bicycle. Production then moved to the back of a  shop in Riding House Street, London W1 7HR  where we made natural plain yogurts and creamy milk desserts for restaurants, delis and cafes. In 1960 the dairy moved to 11 Elaine Grove in Camden where 5 gallon milk churns were delivered fresh daily to the family doorstep, instead of the bottles of milk everybody else in the street got, which raised a smile from the neighbours! We remained there for two years before relocating to Haringey.
As the business continued to grow a temporary move was made to Winchmore Hill, Enfield, while the Haringey premises were redeveloped, and then eventually came a move to larger purpose designed premises in Tottenham in 1984 from where we continued to produce our fantastic yogurts but also  developed a distribution business. In 1996 the second generation family of four brothers and one sister moved the business  to a former dairy  in  Denham Lane, Chalfont St Peter in Buckinghamshire where we are still producing premium yogurts and cultured creams today.
Quality and great taste have always been at the heart of our ethos and, during our years in foodservice, we received many complimentary letters and comments from people who had eaten the yogurts in hotels, schools and hospitals and wanted to know where they could buy them. As a result a new retail range of yogurts was conceived and launched in 2009 to add a fresh new product line to the market for consumers and to meet that demand.
These are exciting times at Tims Dairy. It is currently managed by brothers Chris, Peter, Bides and Tony Timotheou. Foodservice activity has never been busier and popularity of the retail range, which comprises authentic Greek Style, Greek Style Thick Set, Low Fat and wholemilk yogurts, continues to grow. The yogurts are multi-award winning. This is great testimony we hope to our Greek heritage, passion, skill, experience and the family story of the Timotheou family and our lovely yogurts.
The story goes on from here as we continue our mission to get more yogurts to more and more consumers nationwide…
Try our delicious family recipe from the early days – Greco Rosa Crema.